Sewoon Material Library Exhibition 
EulJi-ro Industrial Illustration
The Industrial Ecosystem of Sewoon-Euljiro-Cheonggye Looking throug Prarts and Materials
Sewoon Complex, Euljiro, and Cheonggyecheon gathers many merchants, mechanical parts, and materials. In the retail and distribution ecosystem of Sewoon Complex, which takes over 70% of the complex, there are various industries such as electricity, electronics, metal, processing, machinery, sound, home appliances, and acrylic plastics which creates numerous products among our lives. 
Euljiro Industrial Encyclopedia exhibits over 200 different parts and 180 materials created in Sewoon Complex. Visitors can seek various values of the urban manufacturing site in the core of Seoul for long time. 
In the distribution ecosystem, which accounts for 70% of the Sewoon District, there are numerous industries such as electricity, electronics, metal, processing, machinery, sound, video, communication, entertainment, home appliances, software, rubber, arylic, wires, batteries, watches, etc. From small light to vacuum tube amplifiers, we produce a variety of products in our lives. 
This exhibition illuminates the ecosystem of the urban manufacturing with over 200 kinds of parts and 180 materials that can be purchased from Sewoon, Euljiro and Cheonggyecheon, and you can view information on the companies located in this area. In addition, we want to under stand the manufacturing field that has been with Seoul for a long time and explore various products made in Sewoon and interestingly manufactruing processes from parts to end products.
Euljiro Collective 
You can experience the entire production process in an interesting way by seeing how the products made in around Sewoon district were produced in collaboration with local technologies and resources. Place the miniature product on the top of the reader. Then, the screen corresponding to the product appears, and you can directly touch the screen to experience the detailed story and production process of the product.
Parts Library
The parts library, which consists of about 200 parts obtained from Sewoon, Euljiro and Cheonggyecheon, expresses various product parts available in the area in a modular form. Each module is designed to have 14 angle changes, and as you walk in front of the space, you can experience the parts moving toward the viewer. It explains the purpose of use and the company purchased diretly from Euljiro, so you can look into the distribution ecosystem of Euljiro, which is closely connected between the parts and parts, parts and products, and meet merchants in Euljiro who are close to our lives.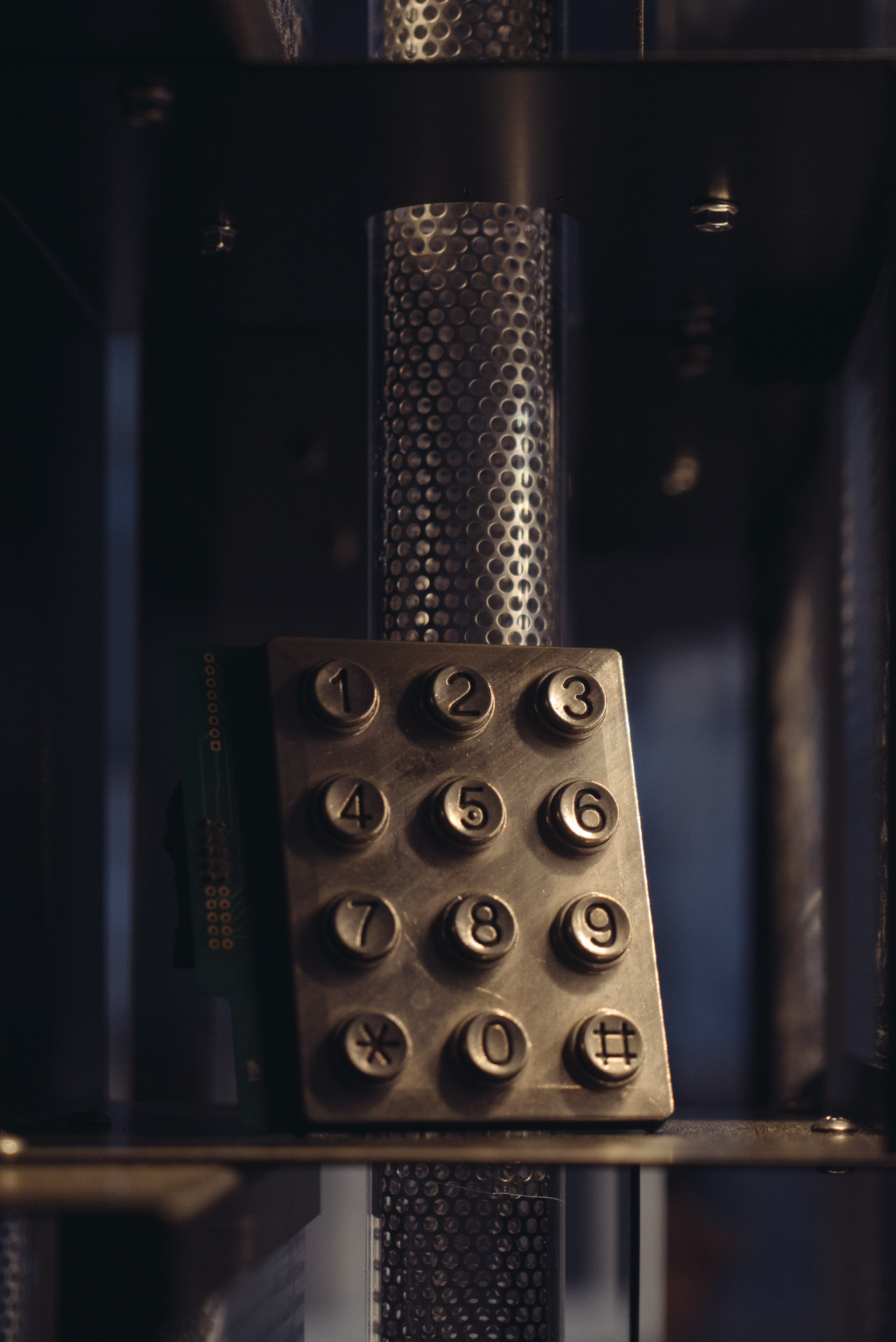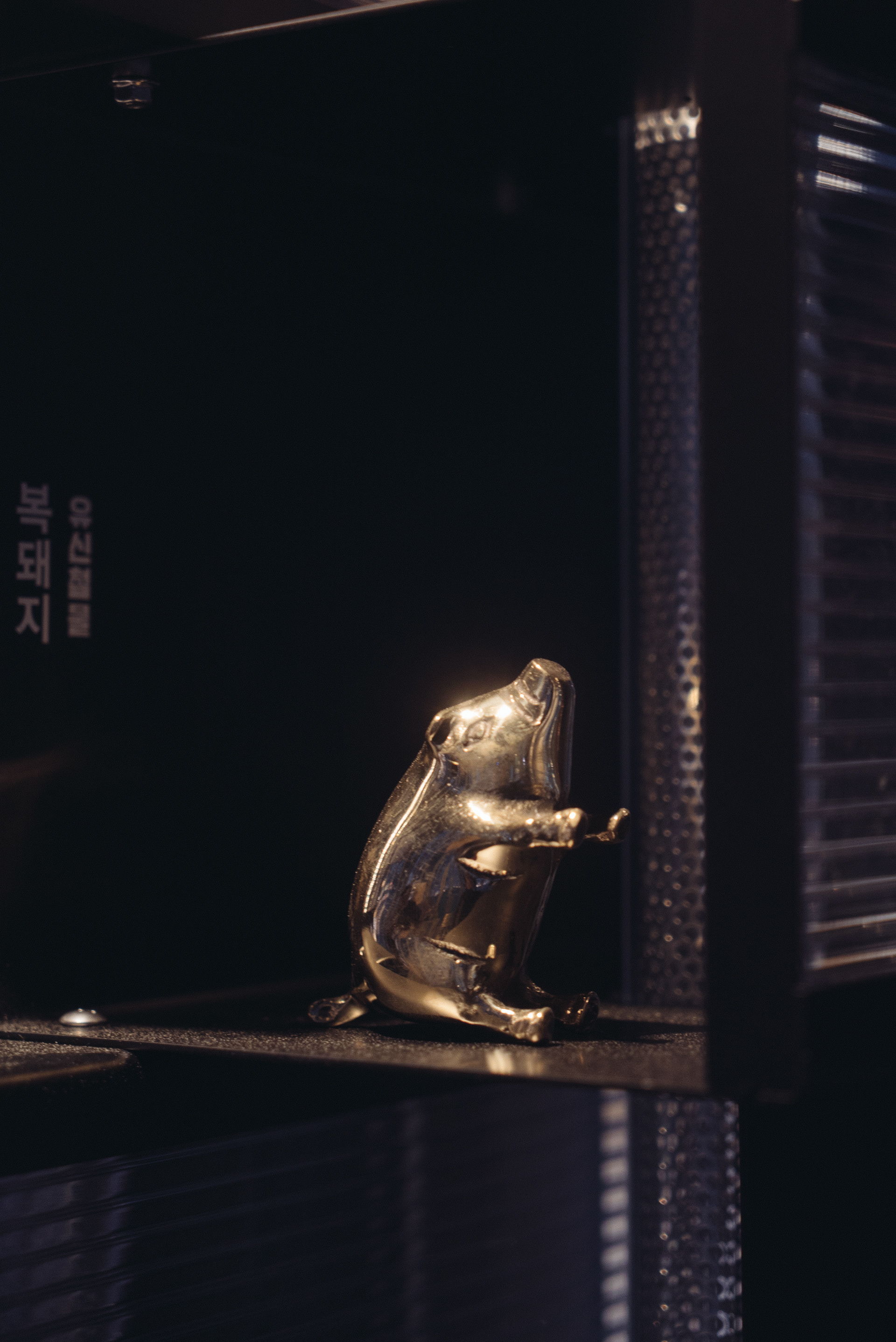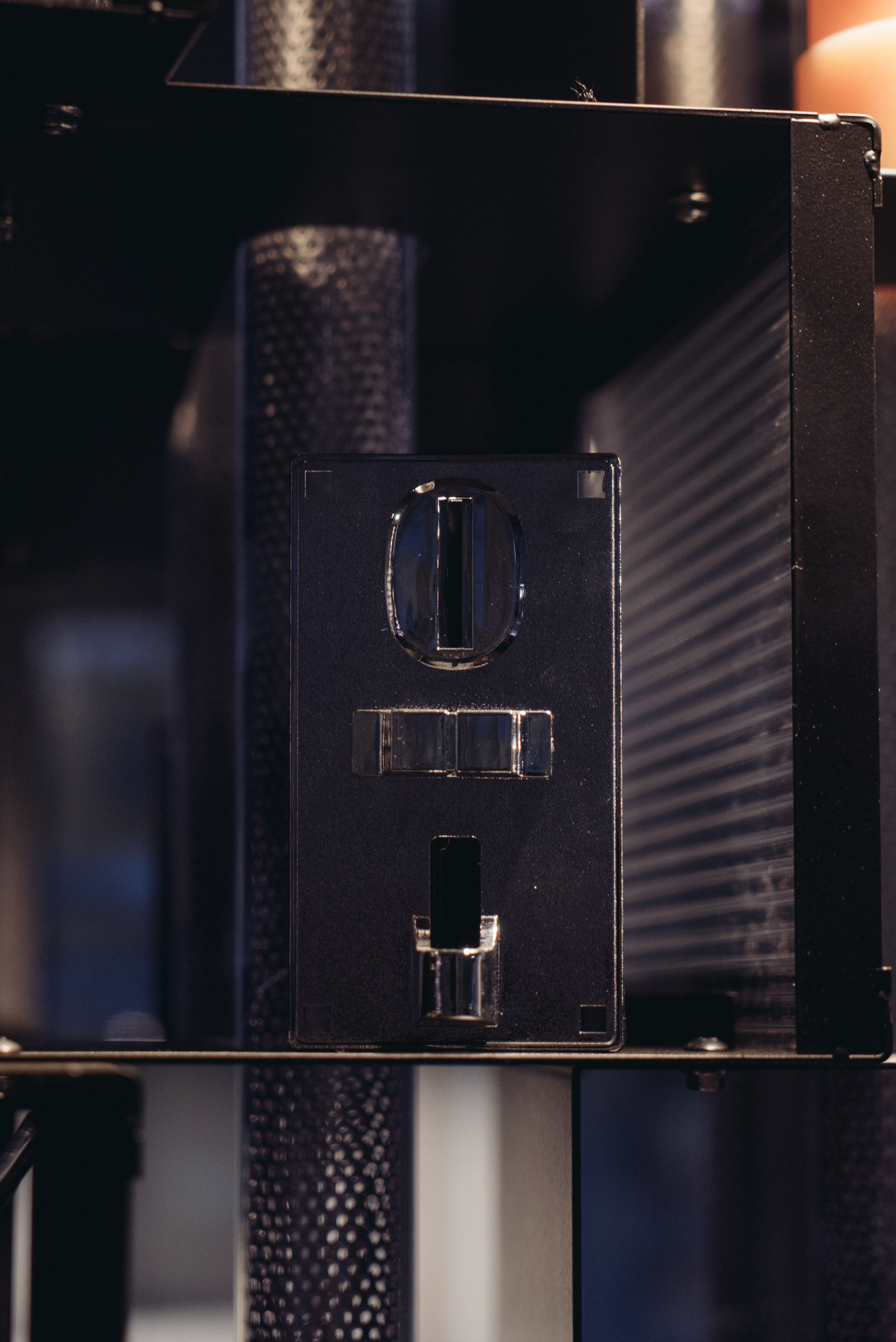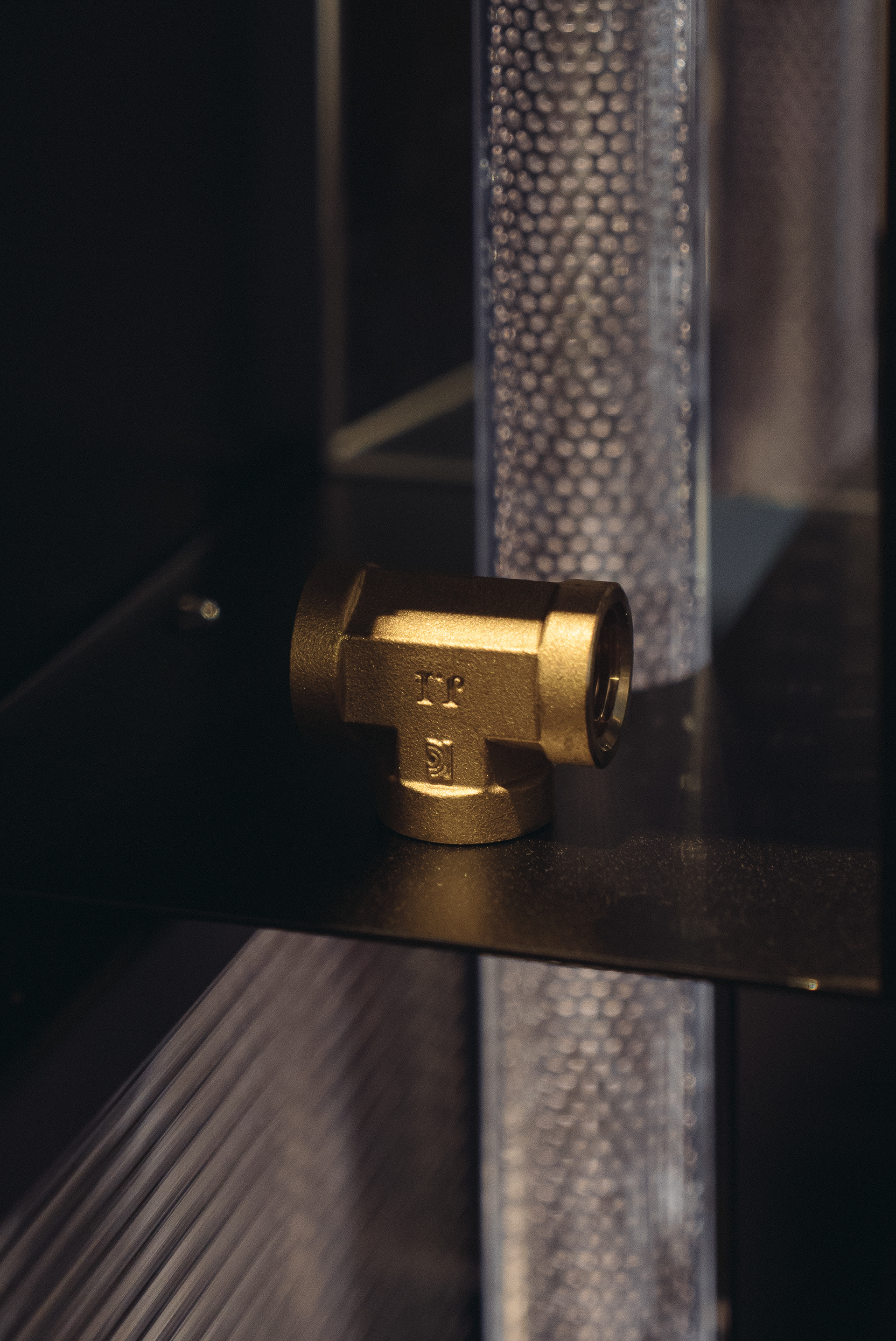 Materials Rack 
we display about 180 kinds of raw materials that are the most basic material to make the products we use. Acrylic, glass, stone, metal and pipes processed in various types provide and opportunity to take a fresh look at the raw materials that are the basic of many products dissolved in daily life. You can understand the unique properties of each material and the difference between its appearance before and after processing by directly looking at and touching the materials that have been seen only in the form of end product.
Sewoon Made 
You can see products that are currently being produced in Sewoon-Euljiro-Cheonggyecheon. Five companies, including Hong-in Electronics founded in 1977, have grown along with the history of Sewoon and have excellent technology and market competitiveness. Throgh SewwonMade's products, we can confirm that the whole of Sewoon districts still has sufficient value and capabiliteies as urban manufactruing field. 
Music bench featured Vacuum Tube Amplifier
It was constructed in the form of a bench to vividly experience the KNOT vacuum tube amplifier produced by meister Ryu Jae-yong, one of the representative meister of Sewoon district. It consists of a vacuum tube amplifier and a birch speaker with a distinctive warm and fascinating tone. The parts used in the amplifier and speakers are displayed to show the manufacturing process together. Turn the lever on the bench to change to Bluetooth mode and connect with your smart device. Enjoy your favorite music in a different way.
Sewoon Map
SEWOON MAP(map.sewoon.org) for Urban Manufacturing is an online industrial map that provides information about companies located in the Sewoon, Cheonggyecheon and Eulji-ro district. At the same time, it introduces factories with technology and various raw materials and product parts, it provides regional technical terms, various production cases and know-how. For your understanding, it has been categorized into six type of business including repair, development, manufacturing, processing, wholesale and retail, sound, entertainment, IT and so on. Please touch the screen to search for businesses, technical terms, production cases, and more.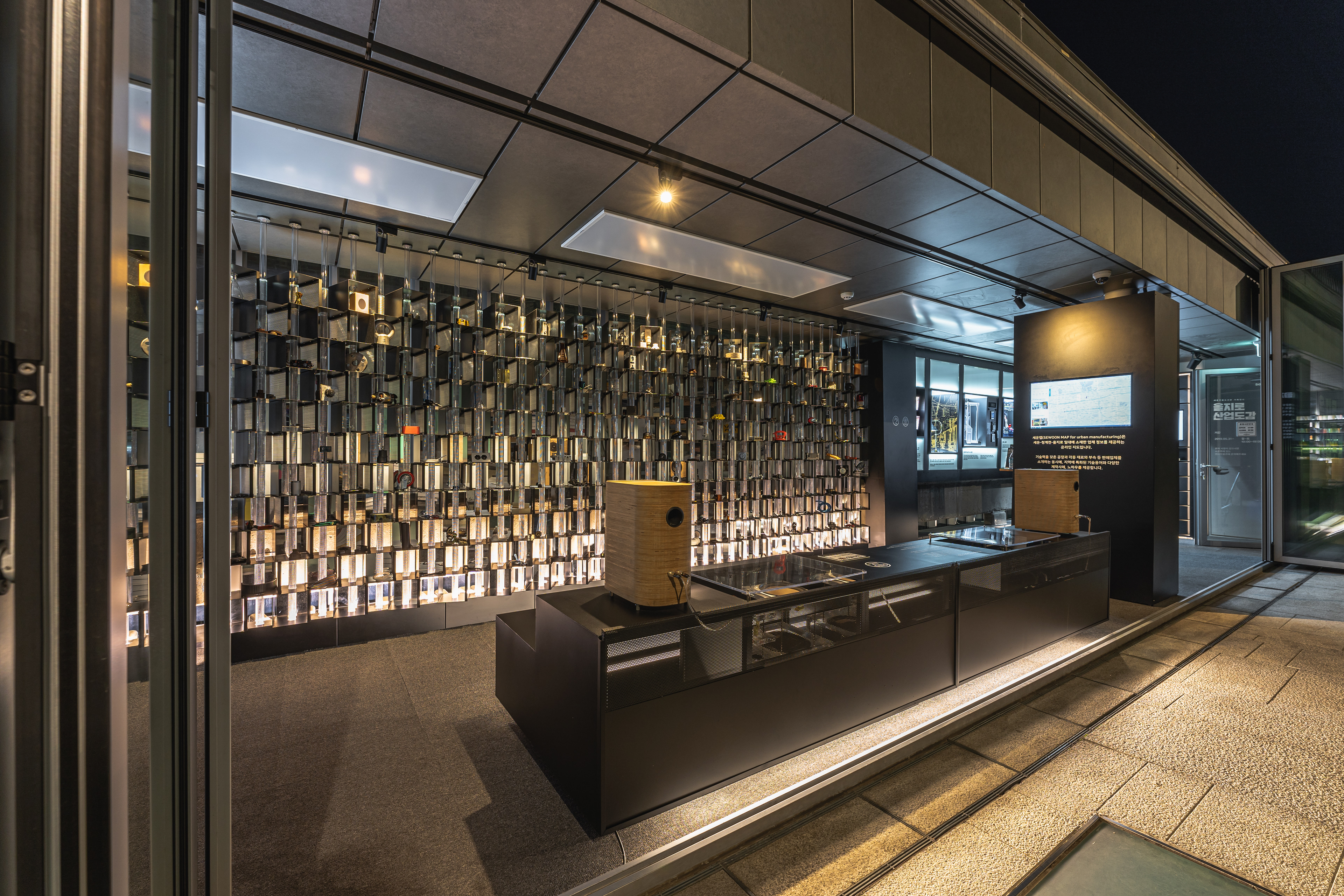 instagram.com/above.studio
Copyright ⓒ 2022 All rights reserved.