As time flys and technology evolves, valve amplifier seemed to be left behind. But its  warm-soft sound and unique feature still touches our heart. Above Studio has consociated with Mr.Ryu, who is an expert of electronic devict automatic control over 50 years, to design and provide people KNOT, SOUND ABOVE. 
​​​​​​​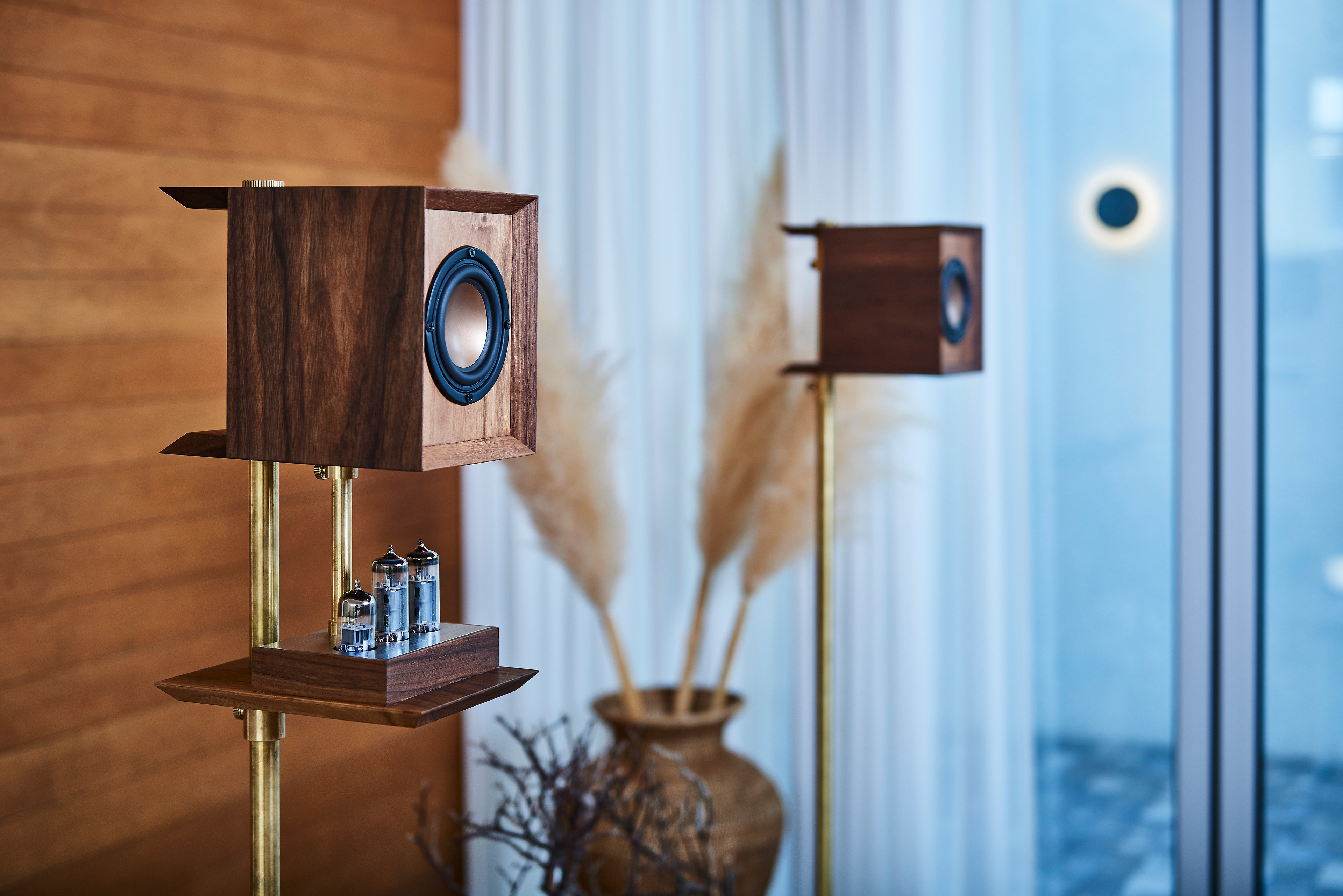 Products these days do not only require its convinience or functionality, but also to be an object or furniture in the sapce it belongs to. KNOT contains both Mr.Ryu's and Above Studio's philosophy into the design. When it speaks, it sounds warm and soft. When it does not speak, it stands as an object feature which will take peoples attention. 
The most important factor when designing KNOT, SOUND ABOVE was to give it a new outfit, while maintaining the sound quality. We kept the optimal empty-space for the amplifier, and still provided the functionality with outstanding appearance. 
The most unique feature of the desk speaker is its blind-like power switch. It's drives people to turn on/off the product intuitively. When the blind-like power switch is turned on, which forms the blind to be opened, it subtly reveals the valve amplifier. This makes people to focus on the essence of the product. 
The stand-alone speaker is designed narrow and compact, considering it's own purpose. It stands at the height of your ear to provide you the best experience of listening sounds. The CMF was decided in a way of reflecting history and craftmanship of Mr.Ryu.
The name KNOT contains Mr.Ryu's wish to knot up his long journey, and a message to Mr.Ryu wishing him to unbox a new chapter of his life with musical machines that he admires.  On top of that Above Studio added a tiny taste ours with design, which gave the KNOT, SOUND above a fine finishing. The three types of product was each given by three different name of knots, it gives unified brand identity. 
The name of each KNOT, SOUND ABOVE uses antique pen-writing style symbol to convey the analogue taste. It consists the meaning of core values of KNOT, SOUND ABOVE, which is trust and craftmanship. Modern typo within the analog symbol creates its own harmony. 
instagram.com/above.studio
Copyright ⓒ 2022 All rights reserved.